Our Address
2225 Broadway • Gary, IN 46407
Click here for directions and an interactive map
Contact
Phone: 219-886-3018
Fax: 219-886-3688
Pastor
Dr. Apostle Thaddeus T. Brown
Administrative Staff
Sheila Chandler • Administrator
fathersheart1@aol.com

Karen Hughes • Secretary
khughesfhc@att.net
Leadership Staff
Elder Yvette Barksdale
Elder Dwayne Haden
Elder Yolanda Kelly
Elder Eliseo Velez

Minister Patricia Brown
Minister Shirley Jenkins
Minister Michelle McKinnie
Minister Takesha Robinson
Minister Linda Smith
Minister Ramona Young

Deaconess Ondrayah Burns
Deaconess Stephanie Davis
Deacon Creighton Dix
Deacon Elliott Expose
Deacon Derrick Hurt
Deaconess Schena Hurt
Deaconess Tabitha Velez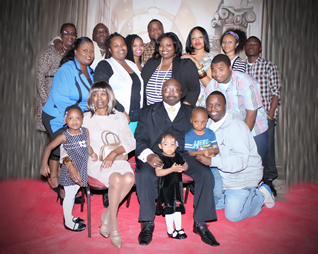 Apostle Thaddeus T. Brown & Family
The Father's Heart Church is honored that you visited our website today.
This ministry is dedicated to fulfilling Kingdom business. We are a church on fire, spreading the Gospel, walking in true love.

We at the Father's Heart Church are a worshipping people who love God. A ministry that cares about people, and we are changing the world one heart at a time.
Sunday
Sunday Morning Glory • 9:30 am
Sunday School • 11:00 am
Christian Development 101 • 11:00 am
Sunday Service • 12 Noon
Tuesday
Tuesday Morning Prayer • 9 am - 12 Noon
Wednesday
Prayer & Bible Study • 6:30 pm
Thursday
Road to Damascus • 6:00 pm
1st Friday each month
Prayer • 9:00 pm - Midnight
3rd Friday each month
Y.E.S. Youth Ministry • 6:00 pm
3rd Saturday each month
GEMS Women's Ministry • 10:00 am
4th Saturday each month
K.I.N.G.S. Men's Ministry • 10:00 am